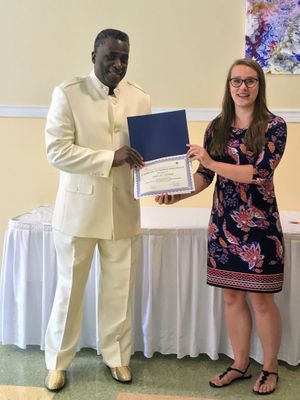 In 2016 The Boston Home was selected for a grant from the Massachusetts's Department of Elementary and Secondary Education (DESE) to conduct a work needs assessment of its staff.  The assessment conducted by Jewish Vocational Service (JVS) found that employees wanted to increase their language and math skills to improve performance at work, as well as to reach their career goals.
As a result of the grant The Boston Home launched a unique education program.  Twice a week, employees received math and English language instruction and then were tutored by the residents. When the grant ended, The Boston Home Trustees voted to fund the program.
This innovative program sponsored by The Boston Home Board of Trustees and in collaboration with JVS has changed lives over the span of nearly four years.  Instructors from JVS lead lessons on-site each week, and four residents of The Boston Home serve as tutors.  For the resident tutors, this program has allowed them to give back to those who care for them throughout the day.
Resident Perspective:
Steve Juknis, is one of the resident tutors who worked previously as an engineer.  He volunteers in the math class and works with his own small group of math students twice a week.  When asked about the work that he does with students in class he humbly remarked, "I do very little—they are the ones working hard."  The students later commented that Steve probably spends equal amounts of time volunteering outside of class time to help math students with their homework.  Steve noted, "It's a really neat program and gives me a chance to give back to the people who help me every day."
Staff Perspective:
In June 2019, seventeen employees were recognized for their participation and success in the program. The ESOL (English Speakers of Other Languages) students showed measurable learning gains in their test scores, with four out of the seven moving up two English Functioning levels or more. HiSET (High School Equivalency Test) students now have more confidence in their academic abilities and desire to take the HiSET exam.
"Learning is key to better education, and therefore to success. I have always believed that it is never too late to go to school, study, learn and achieve one's goals," said Jean Michel Thomas, Environmental Services who participates in the program. "My English speaking at work is so much better now and I could not be more proud of myself," he added.
"I have been attending the program since 2016. The Boston Home residents are extremely supportive of our success. They are an example for all of us.  They take time to tutor us every week.  My success in passing my math test was because of Steve," exclaimed Magda Alfred-Isme, CNA Team Leader.
About Jewish Vocational Service:
Founded in 1938, JVS's employment, skills training, and educational services help individuals with barriers to employment enter and advance in the workplace.  JVS also provides on-site career ladder services in partnership with over 20 businesses.  Last year, over 1,700 JVS clients found a job, and another 1,200 incumbent workers accessed career ladder services at their place of employment.  For more information please visit jvs-boston.org