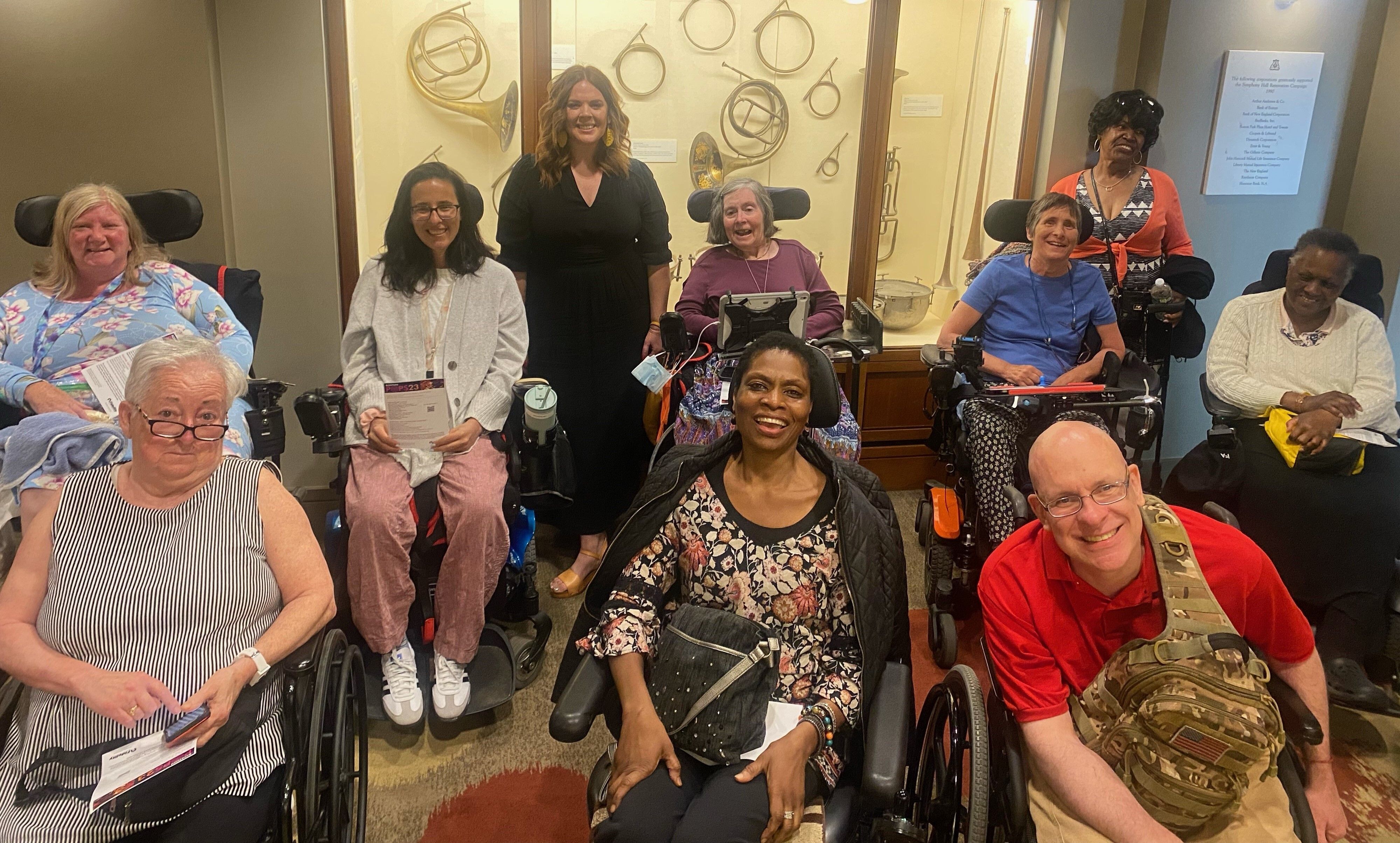 B.Fit! participants enjoy an outing to the Boston Pops.
What's happening at B.Fit! this week? Check out our November calendar!
To learn more about joining B.Fit! please contact Emily Lakis, B.Fit! Program Director, at 617-326-4300 or elakis@thebostonhome.org.
About B.Fit!
B.Fit! is an innovative wellness program located at The Boston Home that serves individuals with multiple sclerosis and other progressive neurological diseases. It offers participants a safe leisure experience that promotes empowerment and independence. Participants range in age from forty-five to sixty and live in the community or traditional geriatric nursing homes. Participants' caregivers attend B.Fit! activities specifically designed  for their respite. Taking time out from caregiving responsibilities is essential for the well being of the caregiver
Achieving Wellness
The road to wellness involves physical, emotional, social, intellectual, occupational and spiritual dimensions. To help participants achieve wellness, B.Fit! incorporates exercise, nutrition, compensatory cognitive strategy training, health education and community engagement.  B.Fit! staff members work one on one with participants to help him or her feel their best. 
Investment brings big returns
Achieving wellness does not occur quickly or with a single behavior. Rather it is a lifelong journey that involves creating a strategy based on individual needs.  The B.Fit! program provides its members with lifestyle and wellness strategies that include suggestions for a  healthy balanced diet, an exercise program geared to one's abilities, and opportunities to participate in activities in the community. B.Fit! participants' self reporting of physical functioning and mental health using a standardized test shows significant improvement after joining B.Fit! Improvements in quality of life remain stable the longer participants remain active in the program.  Funding for B.Fit! has been a collaborative effort between The Boston Home, National Multiple Sclerosis Society Greater New England Chapter, private foundations, corporate grants, and generous individual donors.  
The B.Fit! model
Participants attend up to four days each week and help develop the calendar of activities. Information and education are offered on topics of importance to the participants, including healthy eating (B.Fit! includes a full lunch), spirituality, update on treatments and medications, assistive technology and empowerment in navigating the health care system.  Participants have access to specialized services available at The Boston Home that include seating assessment and rehabilitation services, exercise equipment and access to our adaptive computer center and Wheelchair Enhancement Center. B.Fit! staff organize community outings to various sites such as the Museum of Fine Arts, Museum of Science, Red Sox games, Huntington Theatre, farmers markets, and concerts.