In-Kind Donations
The Boston Home sometimes accepts donations of in-kind goods or equipment. Please contact Ali Cahill, Director of Philanthropy, at 617-326-4261 or acahill@thebostonhome.org, for more information about making an in-kind donation. 
Print our In-Kind Donation Form.
Fratelli's Pastry Shop is a wonderful in-kind supporter of The Boston Home! Residents look forward to delightful visits from the Fratelli's team several times a year, when they stop by with Thanksgiving pies, delicious pastries, or even seasonal cocktails. We look forward to the friendship and joy they bring just as much as the treats!
Read about Pino, who co-founded Fratelli's with his brother John and now lives at The Boston Home.
Do you know a business that would like to connect with The Boston Home? Let us know!
Host a Fundraising Event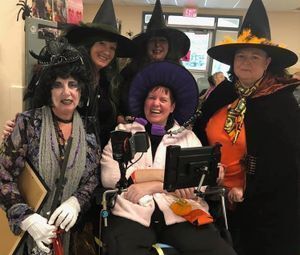 Friends of The Boston Home have organized golf tournaments, receptions, luncheons, and more on behalf of The Boston Home. Gail's Girls from Marshfield, MA support The Boston Home through their annual "Witches Walk." Since beginning to support The Boston Home in 2018, Gail's Girls has raised over $100,000 to to fund life enhancing programs for residents!
Support The Boston Home through Social Media
Celebrate your birthday by inviting friends, family and colleagues to join you in supporting The Boston Home through your social media. Many supporters choose to hold Facebook birthday fundraisers in support of The Boston Home, which is a wonderful way to spread the about The Boston Home's mission while also raising funds.
Giving Tuesday, the first Tuesday after Thanksgiving, is an international day of charitable giving that generates tremendous support for nonprofit organization, largely through the power of social media. You can plan to host a Giving Tuesday fundraiser through Facebook or Instagram on Tuesday, November 28, 2023.