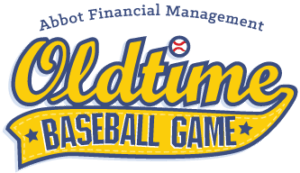 2023 Oldtime Baseball Game
to Benefit The Boston Home
Thursday, August 24, 2023 at 7 PM, St. Peter's Field in North Cambridge, MA.
We are delighted to announce that the 2023 Oldtime Baseball Game is being played as a fundraiser for The Boston Home in recognition of people with multiple sclerosis. Aidan Freeburg, a long-time participant in the Oldtime Baseball Game who was diagnosed with MS in 2014, has stepped forward to lead this year's effort. This year's game will feature a special guest appearance by former Red Sox player, Fred Lynn.
$80K for Aidan
"$80K for Aidan" is inspired by #8 Aidan Freeburg's leadership in stepping up to raise funds for people with multiple sclerosis. Aidan and his family are grateful that he is doing so well while living with MS, and are deeply motivated to support the residents and outpatients of The Boston Home who are more severely impacted by the progressive form of MS.
About Aidan Freeburg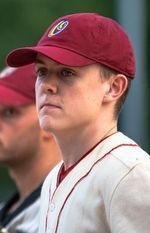 Aidan Freeburg, a standout pitcher from Arlington, was diagnosed with MS at 19 years old during his sophomore year at Worcester Polytechnic Institute. In spite of periodic setbacks to his health, Aidan persisted on his path to a BS in Mechanical Engineering and played all four years of NCAA baseball.
Aidan has been a longstanding presence and player at his beloved Oldtime Baseball Game, demonstrating his talent, drive and passion for the sport. He is also a veteran player for the Lexington Blue Sox, winning two Intercity Baseball League awards for his pitching. Now 28, he is a Laser Applications Engineer and has been very active in raising funds for MS research.
For Aidan, this year's Oldtime Baseball Game represents the convergence of his two greatest passions: baseball and MS. He is excited and honored to raise awareness and support The Boston Home's mission to provide exceptional clinical care, innovative programs and access for greater independence and quality of life.
About Oldtime Baseball Game
The Oldtime Baseball Game is a celebration of our national pastime, played each year at beautiful St. Peter's Field on Sherman Street in North Cambridge. From its humble beginnings in 1994, the game has grown considerably over the years, yet has remained loyal to its mission of offering a glimpse of what it was like in the old days, when hundreds of fans would turn out to root for their "town" team in various local semipro leagues.
What makes the Oldtime Baseball Game so special is our dazzling collection of flannel uniforms that represent virtually every era in baseball history. Used just once a year for the Oldtime Baseball Game, and then returned to storage the uniforms include such long ago teams as the Boston Braves, St. Louis Browns and Brooklyn Dodgers. Teams from the old Negro Leagues are represented by the Kansas City Monarchs, Homestead Grays and Baltimore Elite Giants. Cuba is represented by the legendary Cienfuegos Elefantes. We even have a uniform from a team that never actually existed: the New York Knights for whom Robert Redford's Roy Hobbs character played in "The Natural."
Players from the game are chosen from colleges and universities from throughout New England, with an occasional high school player or retired big-leaguer added to the mix. Hall of Fame pitcher Pedro Martinez came out of retirement in 2017 to work two shutout innings in the Oldtime Baseball Game. The 2018 game featured one of the most interesting pitcher-batter match-ups in our game's history, as legendary Red Sox knuckleballer Tim Wakefield faced Pro Hockey Hall of Fame defenseman Raymond Bourque. In 2019, seven-time Cy Young Award winner Roger Clemens pitched pitched two innings, and then played two more innings at first base. Jim Lonborg, Cy Young Award winner for the 1967 Red Sox, pitched a shutout inning in 2015. Other former big-leaguers include Oil Can Boyd, Mike Pagliarulo, and, of course, Lou Merloni, an annual fixture at the Oldtime Baseball Game.