Programs and Services
The Boston Home offers exemplary clinical care to our residents, which gives them a thriving life. All our programs and services build the body, stimulate the mind, and nurture the spirit. They include customized wheelchair adaptations, art classes, music and writing programs, spiritual services, and social outings, such as theater, concerts, sporting and community events. Family involvement is a high priority.
Admissions Process
At The Boston Home we take time to build relationships with our prospective residents and family members prior to admittance. Our admissions process is thorough and personalized, and our team guides prospective residents and their families through every step of the plan. While we do our best to make the referral and admissions process as simple as possible, we know that this decision can be daunting.
We encourage prospective residents to visit us and take a tour of our home.
Race, religion, sex, national origin, age, sexual preference, or veteran status, plays no role in our admission process.
Applicant Requirements
Have a primary diagnosis of a progressive neurological disease
Be twenty-one or older
Be wheelchair dependent
Non-smoker, for at least six months
Tours and Referral Process
Please contact Kristy Ford, Director of Admissions at 617-326-4348 or kford@thebostonhome.org.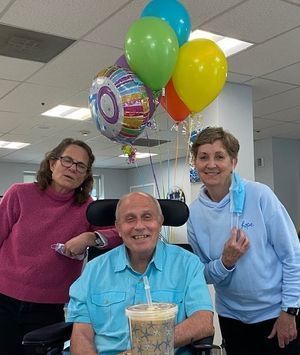 "Our brother, Brian, has recently become a resident of The Boston Home. What TBH has created for people with disabilities like Brian, is a beautiful sanctuary with dignity and respect. The relief we feel, that Brian is at TBH, is immeasurable. Thank you, from the bottom of our hearts, for all that you do."     
Sincerely,
Brian's Grateful Siblings