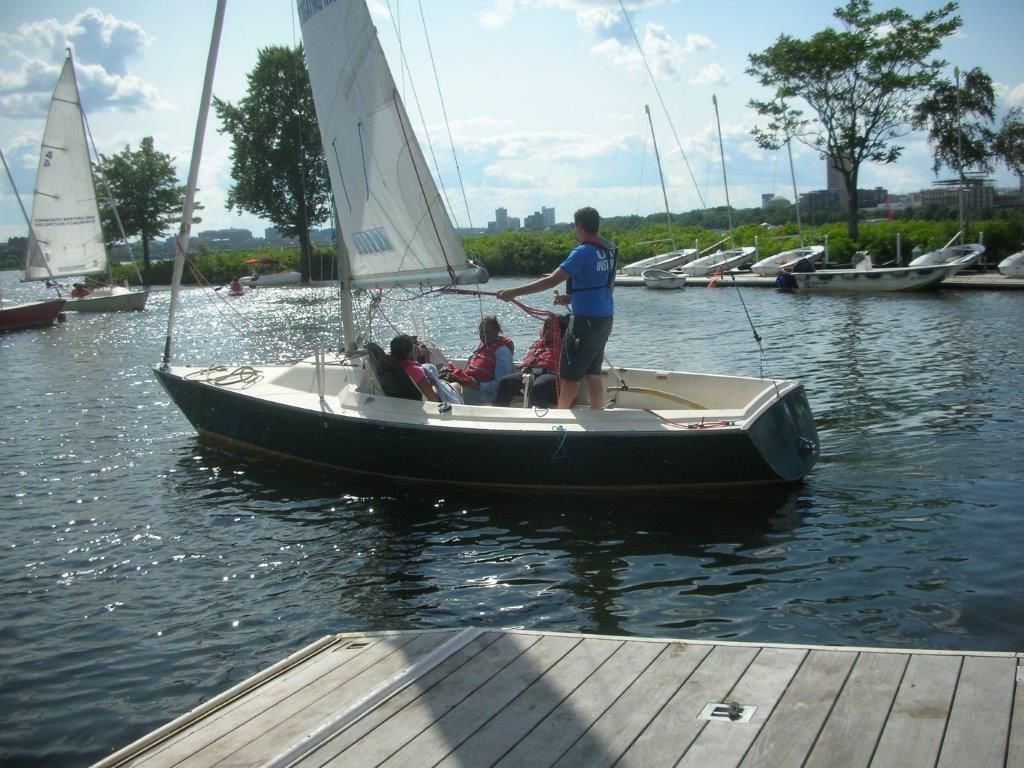 B.Fit!  Goes Virtual!: Wellness, Community and Culture during COVID-19
The COVID-19 crisis has meant big changes for The Boston Home's many vibrant programs.  B. Fit! is The Boston Home's day wellness program for adults with multiple sclerosis and other advanced neurological disorders who live at home in the community.  Under normal circumstances, B.Fit! members come to The Boston Home up to four days a week where they participate in educational programs and have complete access to our rehabilitation services, Wheelchair Enhancement Center and Computer Café, as well as having lunch and snacks served each day, and participating in off-site field trips to museums and performances. Throughout the COVID-19 crisis, B. Fit! is still offering a wide range of services for members that aim to meet practical needs and support social and emotional wellness.
Glory Wideman-Hughes, B.Fit! Program Coordinator, distributed backpacks to B.Fit! members at the start of the pandemic, stocked with emergency supplies including face masks, hand sanitizer and more. She and program assistant Chelsea Moses provide ongoing grocery and toiletry deliveries, as well as technology assistance. Recently, Wideman-Hughes advocated for a B.Fit! member with the phone company to troubleshoot her out-of-service home landline. This was crucial because the B.Fit! member's safety alert system is tied to her landline phone.
Wideman-Hughes emphasizes the value of maintaining frequent personal connections, noting that at least 7 members of B.Fit! live alone with the support of personal care attendants: "Just the low-tech act of picking up the phone is so important, hearing a familiar voice, and knowing someone is there for you." Preventing B.Fit! members from feeling isolated during the pandemic is an important mental health priority. According to the National MS Society, depression is one of the most common symptoms of multiple sclerosis. Studies suggest that clinical depression, the most severe form, is more frequent among people with MS than it is in the general population or in many other chronic illnesses. Left untreated, depression can reduce quality of life, and make other MS related symptoms, including fatigue, pain, and cognitive changes, feel worse.
Research shows that maintaining strong social connections, regular exercise and engagement with arts and culture all help to maintain wellness and reduce the risk of depression. In addition to a regular schedule of zoom sessions and phone calls, Wideman-Hughes provides a monthly calendar of creative virtual activities that have included a virtual tour of the Museum of Fine Arts and Arnold Arboretum, webinars, and in-home exercises.
B.Fit! members report that the program makes a profound difference in their lives.  Valencia has been a member of the program for 6 years, and values her strong relationship with Glory Wideman-Hughes and  Chelsea Moses.  She prefers to call the B.Fit! staff, rather than one of her family members when she has a problem or concern: "If I call my family, I know they will worry about me.  But, if I call Glory and Chelsea, I know my concern will be met with both listening and action.  They say, OK, we hear what you are going through. Now, what can we do to help solve the problem.'"  Valencia appreciates the outreach and virtual connections during the pandemic, because she never wants to go back to what her life was life before she discovered B.Fit!, "Just staying home alone everyday. That's what I did before B.Fit!  But, as they say, 'Once you've seen Paris, you can never go back.' I never want to lose B.Fit! and my friends there."
B.Fit! member Beatrice joined the program 3 years ago. She values the sense of community, "We talk about the challenges we face, and can share advice.  Glory has so many resources.  She is a wealth of information and connections."  Beatrice also participates in as many of the program offerings as she can.  "I love the museum tours, and the theater performances.  Some people go sailing, skiing and skating, but I haven't tried that yet." Thanks to B.Fit!, she has not let the pandemic slow down her social and cultural engagement. Over the past several months, Beatrice has participated in informational lectures on MS related wellness, as well as live stream theater performances, online yoga sessions, virtual museum tours and online sketching sessions.  In fact, Beatrice is so active in the B.Fit! program that friends and family now contact her for advice on places to go and things to do.
Beatrice and Valencia both expressed one desire shared by all B.Fit! members. "They just can't wait to come back," says Glory Wideman-Hughes.  "That's the question I hear most often, 'When can we come back to B.Fit! in person?'" Until that is possible, the B.Fit! program will continue to stay connected with engaging remote activities and the personal touch.   On the agenda for the coming week? A wellness webinar, a Boston Pops "at home" performance, a poetry writing workshop, and a virtual visit to the Museum of Science. It's all in day's work for the B.Fit! Team.