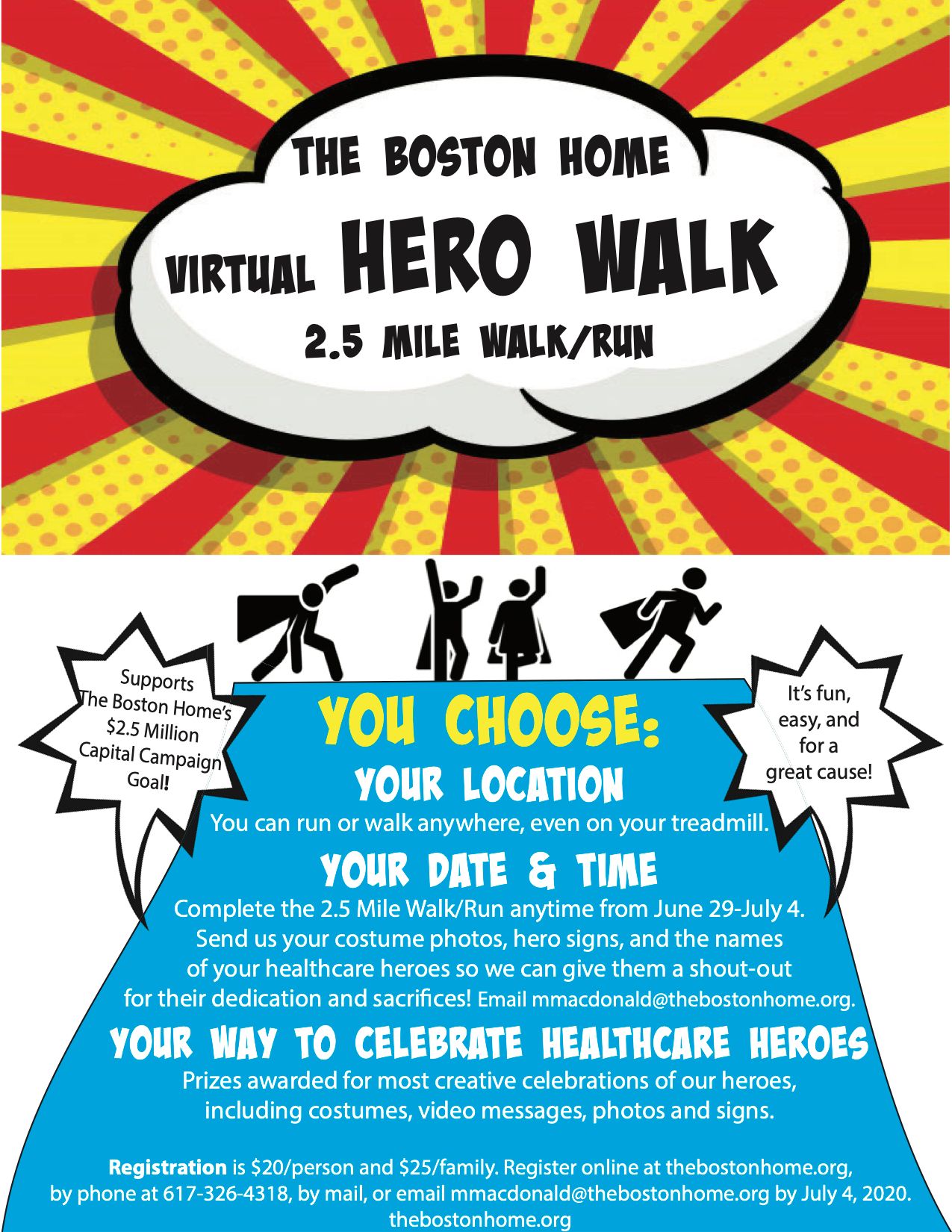 The Boston Home Announces the first-annual Virtual Hero 2.5 Mile Walk/Run. The Boston Home's Virtual Hero Walk/Run is a community fundraising event to recognize all frontline heroes.
The virtual walk or run can be completed from any location you choose, even on your treadmill! You get to choose your date, your own course, and what time you start. You can walk or run at your own pace and time it yourself. Families, friends, and pets are all welcome. Hero costumes and signs honoring your frontline hero are encouraged!
The Boston Home's Virtual Hero 2.5 Mile Walk/Run can be completed any time from June 29 to July 4 2020.
All registration fees and donations will support The Boston Home's Compassionate Care Capital Campaign goal of $2.5 million. Visit our website at  https://www.thebostonhome.org/news-events/ to register or for more information.
Description: It's fun, easy, and for a great cause! Registration is $20/person and $25/family. Register online at    thebostonhome.org/news-events/ or by phone at 617-326-4318, by mail, or email mmacdonald@thebostonhome.org by July 4, 2020. Send us your costume photos, hero signs, and the names of your frontline heroes so we can give them a proper shout-out for their dedication and sacrifices!
Awards: Special prizes will be awarded for the most creative celebrations of our frontline heroes, including costumes, video messages, photos, and signs. All winners will be featured on our website, Facebook, Twitter, and Instagram accounts.
Social Media: Take a photo of yourself on "race day" and tell us the name of the hero you are celebrating! Walkers and runners are encouraged to tag @thebostonhome on Facebook, Instagram, and Twitter using the hashtag: #TheBostonHomeHeroWalkRun. We ask that you help us spread this event far and wide. Please keep forwarding on your social media accounts and tell your friends.  Let's see how far we can send it.