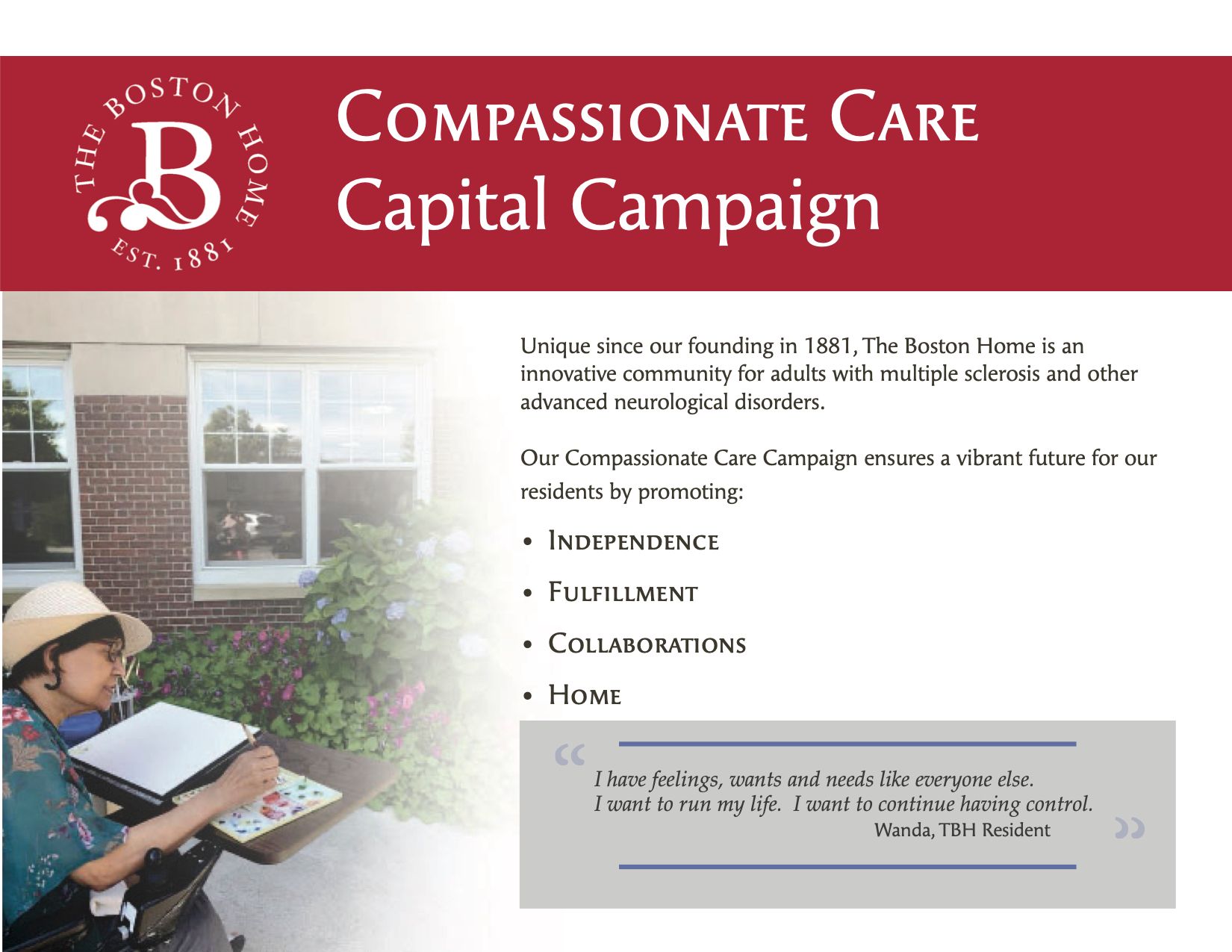 The Boston Home launched its first capital campaign on World MS Day: May 30, 2020.  The "Compassionate Care Capital Campaign" is a three-year, $2.5 million campaign that the organization aims to complete by the end of 2023.
The launch of the public phase of the campaign comes as The Boston Home is more than half-way towards its final goal. To date more than $1.3 million has been raised from individual and institutional donors. "The board of trustees and the capital campaign committee has done an enormous amount of work to launch a successful campaign, both in terms of planning and fundraising," said The Boston Home Chief Executive Officer, Christine Reilly. "To have reached the halfway point...before launching the public phase, is a testament to the extraordinary generosity of our trustees, major donors, and the community's belief in the importance of compassionate care."
"Strengthening The Boston Home's financial future will improve the physical environment, sustain and enhance programming, and expand efforts to innovate and educate the next generation of caregivers and clinicians, said the capital campaign co-chair, Christopher Montani. "The Boston Home Compassionate Care Campaign is an invitation to participate in the good works of a special community."
Selecting World MS Day as the date of the campaign launch was important as it is "A day to celebrate global solidarity and hope for the future." Ethics Committee Chair Cynthia Bagley stated, "We are an organization that is always willing and able to embrace what is new. It's so much a part of the culture of The Boston Home to say, 'What is the future of compassionate care for people with severe and debilitating cases of MS, and how can we be on the cutting edge of that care?'"
The Boston Home is grateful to its dedicated capital campaign honorary committee: James T. Brett, The New England Council; City Councilor Andrea Campbell; Anthony Everett, WCVB; Joseph F. Fallon, CEO of The Fallon Company; The Reverend Gloria White Hammond, MD, Bethel AME Church; The Reverend Ray Hammond, MD, Bethel AME Church; Congressman Joseph Kennedy; Congresswoman Ayanna Pressley; Rhondella Richardson, WCVB; Mayor Martin J. Walsh; Robert (Bobby) White, Robert White Associates.
For a complete informational packet about the Compassionate Care Capital Campaign or if you wish to donate please contact Maribeth-McKenzie MacDonald at mmacdonald@thebostonhome.org, 617-326-4318 or visit thebostonhome.org/compassionate-care-capital-campaign/