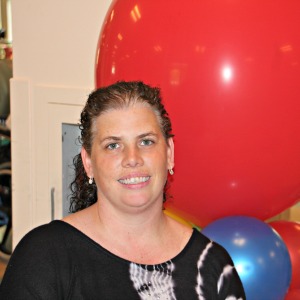 Tell me about your role at The Boston Home?
I am the Activities Director & Volunteer Coordinator. My role is to connect with each person at The Boston Home, and to look at how we can enhance their quality of life. Many people who come here have experienced a lot of loss. My job is to help them engage, and to feel permission to enjoy life again.
It's also about helping people to re-establish their sense of themselves as individuals. For some people, coming to The Boston Home means no longer relying on family members as caregivers, so those family relationships are evolving. I try to understand where each person is coming from, and suggest different ways of staying involved with family life.
With programs, needs are constantly changing. So, I am always looking to see what is working for each person, and what might need to be different.  For instance, if there is a member of the art group who is no longer able to paint.  How can that person still be involved?  How can we adapt the program to meet this new need?  So, we began the art appreciation group.  I am not one to say "this is what we have always done." I'm not afraid to switch it up.
How long have you worked at The Boston Home?  I've been here 18 years.
What would you say has changed most in your time here?
Definitely technology.  Technology has made a huge difference.  When I started, we were working with books, and CDs, but now people can play games online, and have IPads.  Being able to stream music for programming is awesome.
What do you enjoy most about working at The Boston Home?
Sundays. I work 5 days/week, but on Sundays I am strictly an Activities Assistant, which keeps me connected.  I'm not behind a desk.  I am with the residents, participating in the activities.  That is my day to really see what's happening with each person, how they're feeling, and how the programs are working for them.
Is there anything that you're excited about right now?
The holidays are coming up, so we will be working to make sure that we meet everyone's holiday needs.  We also have a magician coming in November, and we're bringing back the choir.  One of our staff is a member of the Boston Gay Men's Chorus, so he is going to be leading the choir, which is great. And, we are hoping to plan some Family Craft Nights.
I like just getting people involved.  My skill is seeing the skills in other.  We work with many volunteers, from Boston Cares and Blue Cross Blue Shield, and local schools, such as BC High and Milton Academy.
What do you like to do when you are not at work?
My dance class.  I love music, and I love to dance. I also love to spend time with my children, Olivia, 9 years, and Matteo, 6 ½ years, and my husband, Roberto.  Roberto and I were married at The Boston Home, almost 15 years ago.
I am also a co-leader for my daughter's Girl Scout Troop.  The Girl Scouts came to The Boston Home, and earned their Art Badge with help from Wanda, who was a Girl Scout herself.