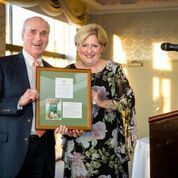 The Boston Home presented the 2019 Compassionate Care Award to Dorchester resident Maureen Feeney at the Compassionate Care Award Dinner held at the Venenzia Restaurant in Dorchester. 
"Maureen Feeney has worked tirelessly advocating for the needs of our residents. She exemplifies the compassionate care that The Boston Home seeks to provide," said Christine Reilly, Chief Executive Officer at The Boston Home. "Maureen is a champion for our residents, she is always willing to help, and does so with an amazing smile, a positive attitude, and a strong voice."
Tom Finneran, Dinner Committee Chair and Master of Ceremonies, presented Ms. Feeney with the Compassionate Care Award. He also conferred a citation from Mayor Marty Walsh for her outstanding service to The Boston Home.
Maureen Feeney, Boston City Clerk, has been a member of The Boston Home Board of Trustees since 2012. She served on the Boston City Council for nine terms, where her colleagues twice elected her Council President, making her only the second woman to hold the post. She is a graduate of Notre Dame Academy and the University of Massachusetts.
Photo: Maureen Feeney with Tom Finneran