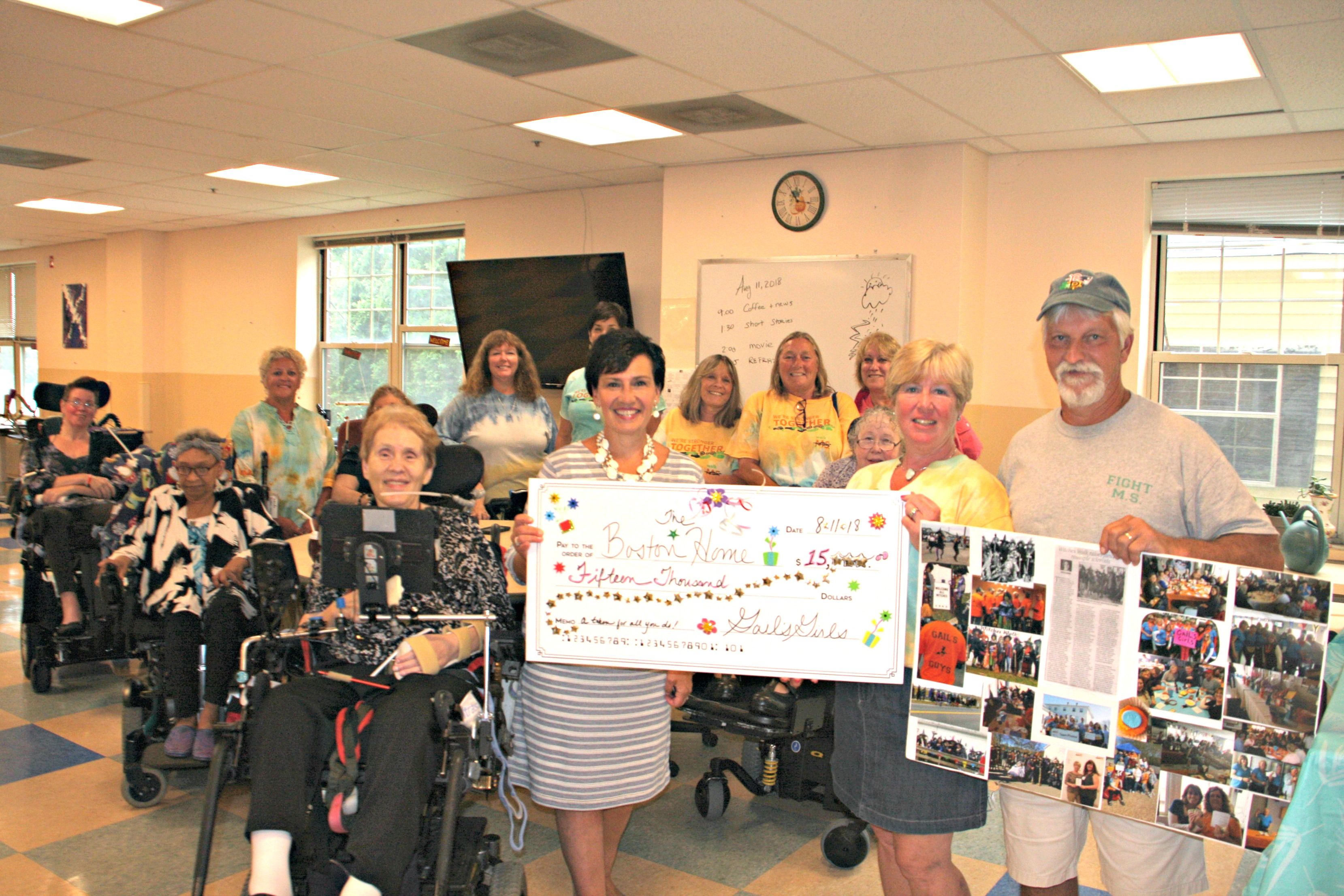 When Gail Fraser of Marshfield was diagnosed with MS in 2007, her family and friends got together to raise funds to help find a cure. In 2008, they held their first fundraiser and donated $4,500 to the Multiple Sclerosis Society.
In 2016, Gail's Girls ran their first Witches Walk and Pub Crawl in Marshfield.  Women and men dressed in witch and warlock costumes paraded to four restaurants in the Brant Rock section of Marshfield. At each venue, the participants partook in a signature crafted "witches brew." They purchased raffle tickets for gift baskets and a 50/50 raffle, and they competed for prizes for the best costume. 
"We wanted to shake up our fundraising events, and we came up with the Witches Walk," Gail Fraser said. "Last year, I read an article in the MS Momentum magazine about The Boston Home. The following week we visited The Boston Home and the residents. We fell in love with TBH and decided to give the money we raised to the residents."
Chris Reilly, Chief Executive Officer of The Boston Home, said, "We are grateful to Gail's Girls for choosing The Boston Home as the recipient of their fundraiser. The donation will support the many programs and services that our residents enjoy, like painting classes, outings to the theatre, concerts and events, iPad classes. None of the programs are covered by insurance."  
Gail's Girls received the 2017 Shining Star award from the MS Society for their fundraising effort. The Witches Walk is so popular that this year they had to limit the participants to 175 people and scale back to three restaurants.
Hundreds of witches will roam the streets again on Sunday, October 28, 2018. Wristbands costs $20 and enters you to win raffles at each venue along the walk. All participants, dressed in their best witch's attire, will meet at 11:30 a.m. at the beach parking lot on Dyke Road, behind Haddad's Ocean Cafe. (Warlocks also welcome.)
For more information or if you'd like to purchase a wristband to participate in the Witches Walk and Pub Crawl for MS, contact Kelley Degust at 781-346-3380 or Gail Fraser at 781-264-7977.